Call record
Carusto system allows you to record phone conversations. It can be automatic recording of all calls of the user, calls through the certain trunks, as well as calls arriving from/to specific numbers, groups or queues. Also, the Carusto system allows to make personal recording. It should be activated by subscriber during a call.
Personal record
Using the interface
To activate a call recording using the interface:
Click the "Record" button on the active call panel during the conversation. You will hear a beep and the icon will change the color to red.
Click this button again to deactivate a call recording.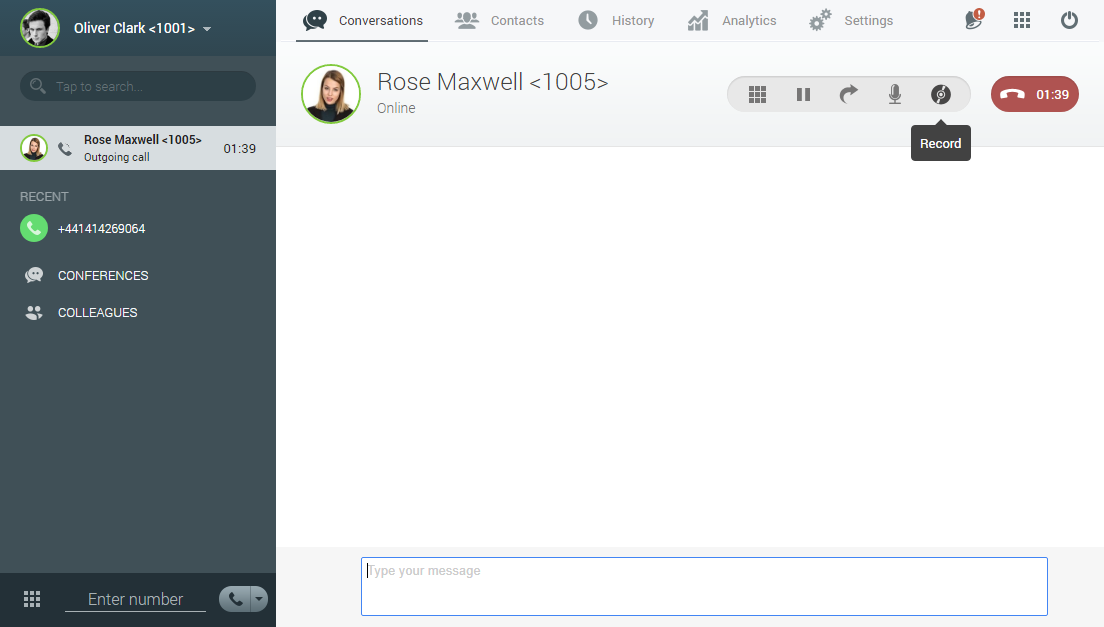 Using the feature key
to activate call recording using the feature key:
Dial *1 during the conversation. You will hear a beep.
Personal call records are displayed in the section History. To listen to the record click on the sign

beside it.
Combination *1 is the default code. You can change it in the section Service codes.
To make a personal call record this function has to be enabled in the Group settings, разделе Features access section.
Total record
You can activate the recording of all calls of a specific user in the Users menu, section "Advanced settings".
To activate the call recording to or from a certain number, you need to add the "Record" rule to the desired context in the appropriate route.
Calls recorded by the system are displayed in the Analytics section and in the application Carusto Analytics. To listen to the record click the icon

next to the desired conversation.