Service codes
Service codes are designed to dial pre-installed applications quickly, such as conference, voice mail, call pickup, etc.
By default, the following service codes are configured in the system:
| Code | Parameter |
| --- | --- |
| 76 | Echo test. Dial this number and listen to the quality of the transmission of your own voice to make sure there are no communication problems. |
| 97 | Check voicemail |
| 98(X) | Dial 98XX to create a conference or join an existing one without using the dialplan rules where XX is the room number (X is any number from 0-9) |
| *3 | Removing the call from the parking lot. To resume the conversation, you need to dial the service code, the internal number of the user who has parked the call and the number of the cell (slot), in case there are several calls put on the parking lot. |
| *4 | Change the status in the system (available, away, do not disturb) |
| *6 | Intercept an incoming call to a member of your group. To intercept an incoming call to a member of another group, you must also specify the group number. |
| *8X | Pickup a call. To intercept a call, you must specify the number of the user who receives incoming call. |
| *9X | (Intercom) Automatic answer to the call. It is necessary to specify the number of the subscriber who will have an automatic answer to the call. The phone answers automatically in hands-free mode. If the subscriber is busy, his interlocutor will be put on hold. |
| *7X | (intrusion) Listen / intrude into the conversation, where X is the number of the person whose conversation you want to listen to. The following functions are available for this mode: 0 - (silent intrusion) ) Silent, hidden, inconspicuous eavesdropping (enabled by default); 1 - the possibility of prompting and talking with call center agent; 2 - с- the possibility of prompting and talking with subscriber; 3 - intrusion to the conversation and creation of a mini conference. |
You can change the corresponding codes in the menu "Components" "Service codes" section.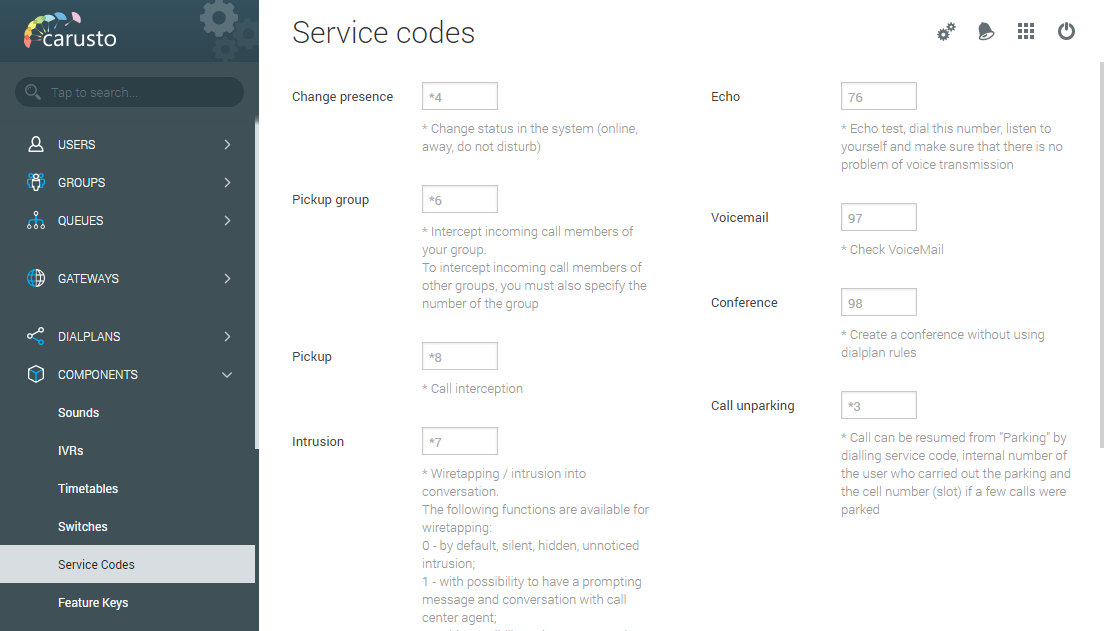 After making the desired changes, click the "Save"button.