User settings
The section "Users" is used to create and edit the settings of each user of the Carusto system. In this section, you can create new users or import users from your databases in CSV or LDAP format.
A new user creating
To create a new user in the "Users" tab, click the "New User" button.
In the opened window fill in the required fields. Required fields are marked with an asterisk.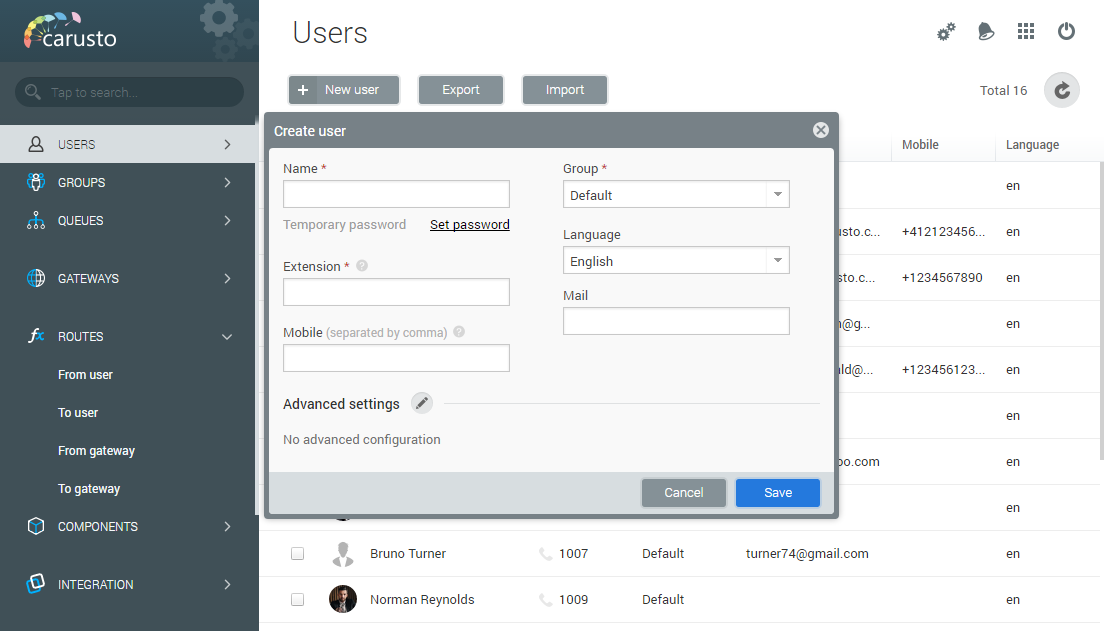 Name - Enter the user name or Login.
Temporary password - The system will generate the password automatically.
Enter password - Enter the password manually.
New password - the password that will be used to log in to the user interface.
New SIP password - the password required for authorizing SIP devices in the system. Used for setting up fixed SIP phones, as well as for configuring third-party softphones.
For security, use different passwords to log in and for the SIP client.
It is recommended to use a combination of 8 characters, at least two letters in upper and lower case, 2 digits and/or special characters for good protection.
Extension - Extension number of the subscriber.
Mobile - Specify one or more mobile numbers for the user to use the "Mobility" function. In case there are several numbers, enter them separated by commas, do not use spaces.
In the future, the user will be able to customize this parameter in the user interface.
Group - Select the group the user will belong to or the default group will be selected. A user can be only in one group. Groups have to be configured beforehand (see the "Groups") section. Depending on the group settings, various features of the system will be available/ not available to the user.
Language - Interface language and audio / voice menu of the services.
Mail - Enter the e-mail address of the subscriber. Sending of notifications about missed calls, unread messages, etc can be configured to this mail box.
Sending of notifications about missed calls, unread messages, etc can be configured to this mail box.
Advanced settings
The section contains the following settings:
Auto record - the function of recording of all conversations of the user. The records are available for listening in the section Carusto Analytics.
Caller's number - If necessary, enter here the national number that will be registered in the "FROM" field of the "INVITE" message, when internal subscriber calling through the SIP trunk.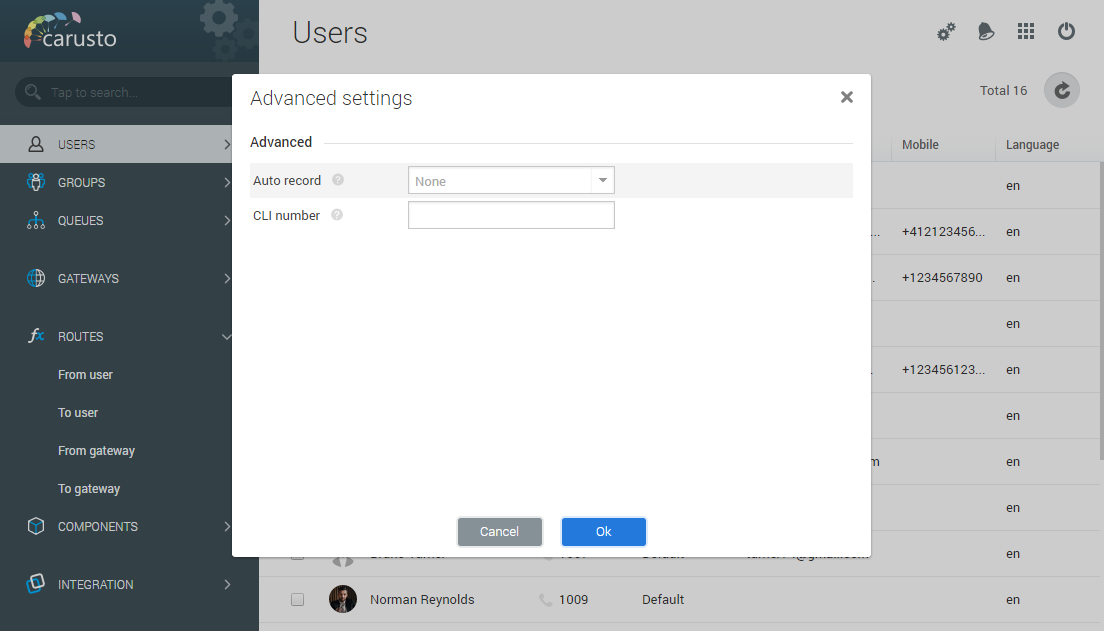 Editing data and deleting a user
To edit previously entered data, change the password or delete a user, right-click on it, or tick the box next to its name and use the appropriate buttons

in the upper right corner.
You can select several users at once and prescribe them common settings of the group, language, or delete several users at once.