PCI (PRI, BRI, FXO, FXS)
This section is meant for connecting physical PCI gateway to the system.
Customization
To add a new device, go to "PCI (PRI, BRI, FXO, FXS)" section and click "New Gateway" button. Configure the following settings:
Name - the name of the gateway
Device - allows you to select the device port number (Span)
b-channel - voice data channels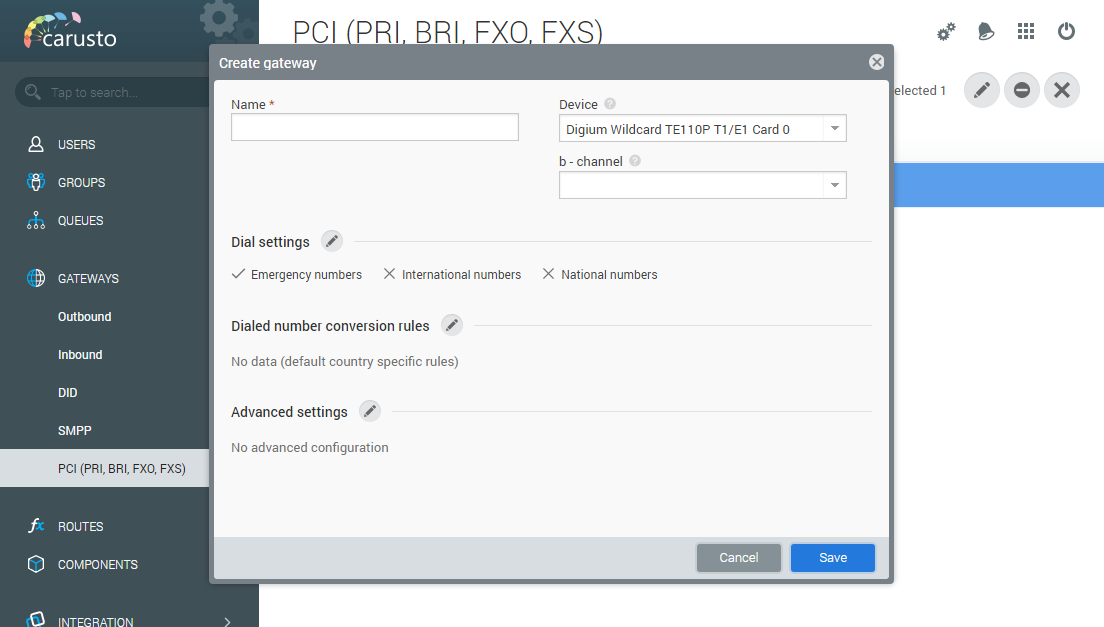 Advanced settings
d-channel - Alarm channel.
Zone - Area (region)
Timing source - Select the source to synchronize the timer. 0 - master, 1 or more - the master is the remote side. The higher the number - the lower the priority.
Lbo - Attenuation depending on the distance to the far side.
Framing - Telephone signaling type. For E1, ccs or cas is selected.
Coding - Coding in the line. For E1, select ami or hdb3.
Yellow - Checking and generating crc4.
Switch - Type of signalization (national, ni1...)
national: National ISDN type2 (American)
ni1: National ISDN type 1
dms100: Nortel DMS100
4ess: AT&T 4ESS
5ess: Lucent 5ESS
euroisdn: EuroISDN
qsig: Minimal functionality protocol used to build a "network" between two or more PBXs from different vendors.
Mode - Alarm Mode
cpe: Client side of the equipment (user)
net: network side.
Opts - Additional options
Omit display: Deactivates sending the caller name
Omit redirecting number: Deactivates number redirection
AOC: Enables some Advice of Charge bits, supposed to handle incoming AOC messages and output some details at NOTICE loglevel (experimental).
Ton - Type-of-Number by default for outgoing calls: "international", "national", "local", "private", "unknown" (default).
Layer1 - B-Channel Layer1 protocol, "alaw" или "ulaw".
Overlap dial - If the value "yes" is set up, the dialed digits will be immediately sent to the stream. The default value is "no".
Digit timeout - The waiting time for the entire digital combination. This may be necessary in case of using the Overlap mode, to avoid the last digit being lost.
Idle restart interval - The parameter sets the time in seconds between the restart of unused channels. The default setting is 3600. The minimum value is 60 seconds. Some PBXs do not like restarting for channels. As a solution, you can set a very large interval for them, for example: 100000000 or set the value never to completely disable the restarts of channels.
Restart timeout - The time interval after which restart attempt will be made.
Restart attempts - The number of restart attempts.
Service message support - Activation of service message support for the channel.
Local number - The system will not answer calls when the called number does not match the specified number.