Campaign modes
Outbound campaigns can work in tree modes: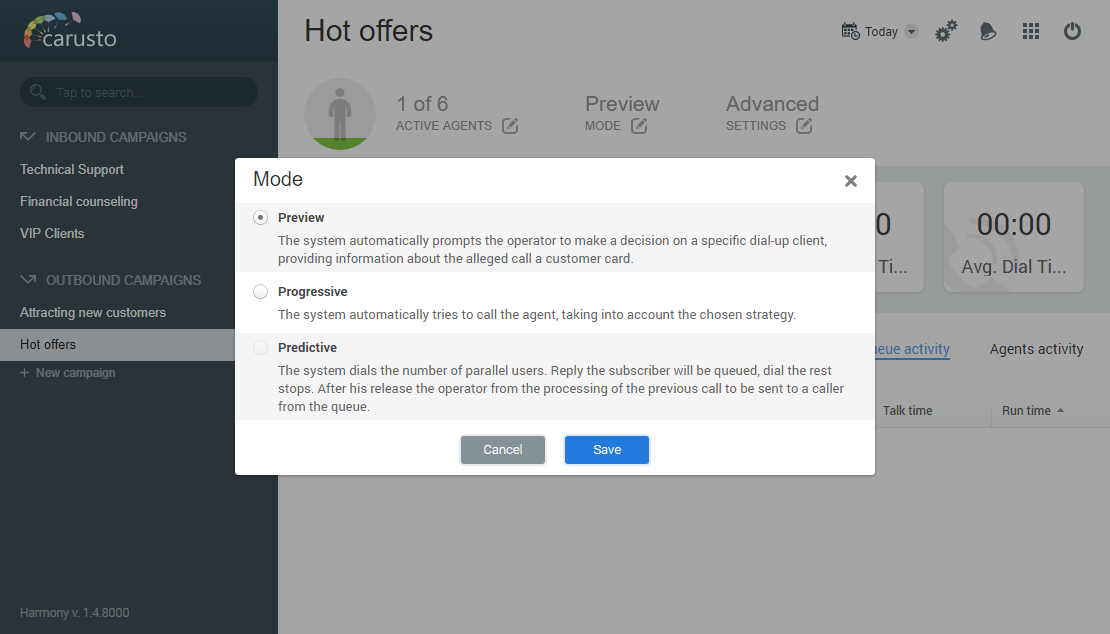 Preview
In this mode, the agent is notified of the availability of the outgoing call to the client. The system offers the operator to make a decision to dial a specific customer, providing information about the alleged call in the form of a customer card. After reviewing the information, the agent can confirm the call, after which the system will start to dial the contact, or refuse, indicating the reason for the deny, and go to the next customer card.
Progressive
This mode implies that the agent has no choice before making a call to the contact. The system automatically tries to call the agent, taking into account the chosen strategy. After dialing the contact number, the agent receives an incoming call, responding to which he connects with the client. This mode is recommended if the call center agents do not use the system Carusto Unified Communications, but use a sip phone or a regular fixed or mobile phone.
Predictive
The system simultaneously dials several subscribers. The answered subscriber will be queued, and dialing the rest subscribers will stop. An operator will receive the next call from the queue after processing the previous call. In the predictive mode the system calculates by itself the speed of making calls and how many subscribers to keep in the queue, proceeding from the requirements of minimization of the idle time of operators.