IVR
IVR(Interactive Voice Response) - The interactive voice menu. It serves to optimize incoming customer calls and redirect them in accordance with the topic for further processing. The IVR voice menu is an answering machine that reproduces the recorded early information when a call arrives. The subscriber has an opportunity to obtain necessary information in real time via moving throug the IVR by simply pressing a key.
To create the IVR select this application from the list and set the following parameters:
Call - Select a call that will get to this voice menu.

Sound - This audio file is played once while a call is coming to the IVR. It means that file selected in this menu will be the first thing the subscriber will hear while getting to the IVR. For example, this file contains the subscriber greeting (Hello, you called to the...) that shouldn't be played each time the subscriber is comming back to the main menue.

Short sound - This audio file will be played while waiting for user's choice and when returning to the IVR main menu.

Keys - The keys that will be used in this IVR.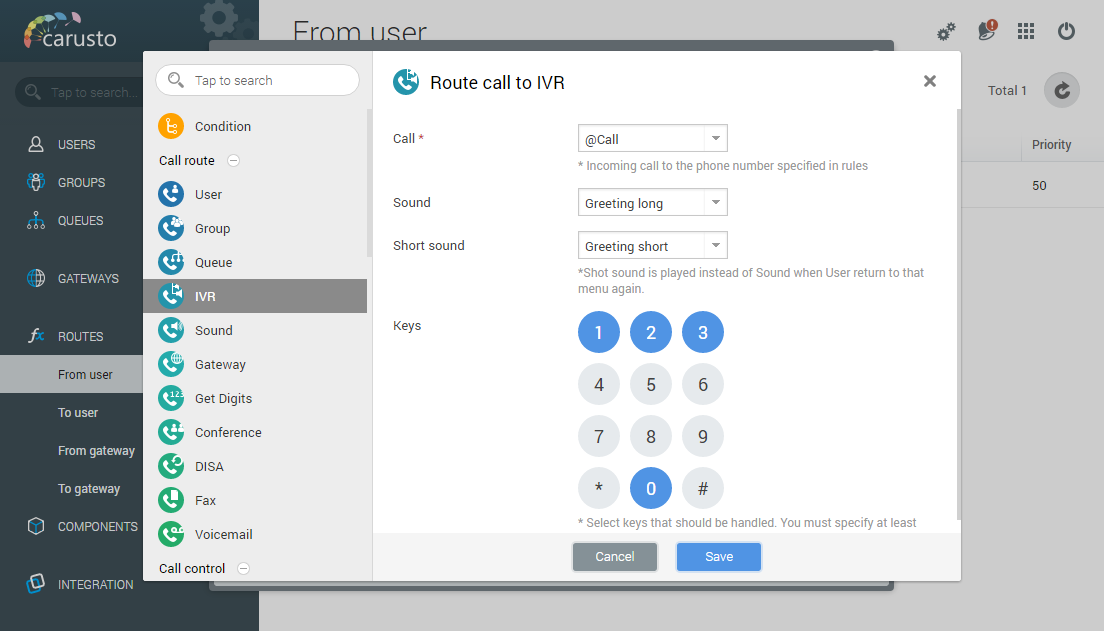 Click "Save" button. Then click "Add action" below a key, after clickin which the action will be performed and add the desired action.